The European Leagues Association and its members are glad to present to the football community their annual overview of Domestic League Competitions ahead of the start of the 2023/24 football season.
For each league, key features of the report include:
Leagues' Competition Formats.
Calendar of Domestic League Competitions.
Winter & Summer Players' Transfer Windows.
Domestic Clubs qualified to 2023/24 UEFA Club Competitions.
Domestic Team Rules such as squad seize limit, loan limit, home-grown players' rule, and nationality rule.
VAR structure & operation.
With recent inclusion of the professional football leagues in Albania, Bulgaria and Malta, the European Leagues Association now comprises 39 member leagues and association of clubs who represents more than 1000 professional football clubs across Europe.
Please download the report here.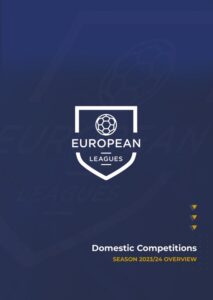 Let the LEAGUES begin!
Back to All News