The European Leagues and its members are pleased to share their 2022/23 League Competitions Overview (PDF at the bottom of the article). A unique report of its kind, it is published annually by our Association at the start of the football season.
It presents a complete overview of all key competition elements of domestic professional football leagues across Europe for the upcoming season, from all members of our Association. and on a country-by-country basis. The final standings of the previous 2021/2022 season were also gathered for this report.
For each 2022/23 domestic league competition this publication showcases:
Competition format
Season match-calendar
Match-day kick-off times
Players' transfer windows for summer 2022 and winter 2023
Comparative charts
Clubs list
After three football seasons heavily impacted by the Covid pandemic and its restrictions, it is now time for football fans to back to the stadiums with full energies to cheer for their favorite league and their clubs.
We wish to the whole community of football a fantastic league season!
Download the full Report in PDF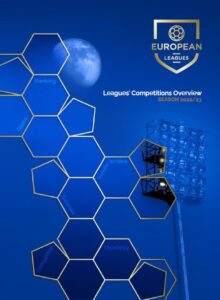 Back to All News