The EPFL, represented by its Head of Cabinet, Jair Bertoni, visited the capital of Azerbaijan, Baku, for two days in order to discuss with the Professional Football League (PFL) the status of development of football in the country and the current concerns and future challenges facing by the league and its affiliated clubs.
The meeting held on 7 April with the presence of the President of the PFL, Mr. Ramin Musayev, and members of the administration, was an excellent occasion to explain in detail the various projects and services provided by the EPFL to its members and to strengthen the involvement of the league in the present framework and activities of the Association. The participants had the chance to discuss specific issues of importance for Azerbaijan football and in particular for the league such as attendance at stadiums, alternative digital methods to broadcast matches, the development and training of local young talents as well as measures to ensure the financial sustainability of the clubs and the generation of new sources of revenues for the league. This very dynamic and interactive exchange of views set the basis for the work to be further developed between the entities in the future with the purpose of assisting the PFL to raise all necessary standards in different aspects of its competition to achieve qualitative football on and off the pitch.
During the second session of the meeting in the afternoon, the EPFL jointly with the Legal Manager
of the ECA, Wouter Lambrecht, met the league and four clubs (PFC Neftchi, AZAL PFC Baku, Xäzär Länkäran FK and FK Baku) in order to prepare the meeting of the European Social Dialogue (ESD) to take place the following day whose purpose was to review the progress made on the implementation of the Autonomous Agreement. In addition, the meeting also served to address specifically clubplayer relationship actual problems and enable the participants to openly discussed feasible solutions. On the 8th of April, the ESD meeting just confirmed the positive progress achieved by the national social partners, namely league, clubs, association and players' union, to establish the minimum contractual requirements for players' contracts and a proper dispute resolution mechanism within the framework of football bodies to further guarantee proper labour stability and strike a fair balance between the rights and duties of employers and employees alike.
After these series of meetings, the EPFL Head of Cabinet stated: "It was a great opportunity to come to Azerbaijan to visit our colleagues of the league and personally witness the huge potential of Azerbaijan professional football and the excellent work done so far by the PFL to achieve an enhanced competition at domestic level. One of the EPFL's main roles is to assist our members to progress and accomplish their key goals providing effective advice and services through the experience and knowledge collected and shared by those leagues already accomplishing the highest standards in their professional football competition at national level. We hope this is only the beginning of a fruitful cooperation to implement the PFL's plans for the benefit of the whole football in Azerbaijan". Mr. Musayev stressed "We are pleased to be a member of the Association of European Professional Football Leagues and welcome its Head of Cabinet as the PFL is always trying to profit from the experience of other more developed and well-known football leagues. The  Association is currently ranked 29th in the ranking of UEFA. We are trying to get up to higher levels and develop the sport at national level."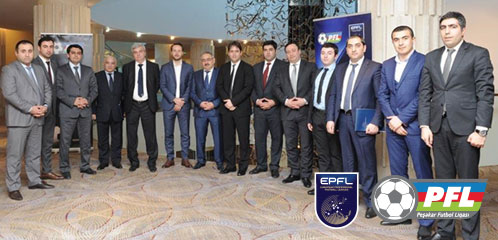 Back to All News