The European Stadium & Safety Management Association (ESSMA), in partnership with the EPFL (Association of European Professional Football Leagues), will organize the fourth ESSMA Summit. The two-day event will take place from 16 to 17 January 2018 at the Aviva Stadium (Dublin, Ireland), home of the Irish Rugby Football Union (IRFU) and the Football Association of Ireland (FAI).
Building on the great success of the previous editions, the 2018 Summit  will gather once again hundreds of stadium industry experts and well-known specialists from clubs, stadiums, leagues and FAs from all over the world to discuss various aspects of stadia management such as Safety & Security, Fan Experience, Construction & Development, Operations & Ticketing and  Pitch Management, among others.
"The ESSMA Summit stands for trusted industry information by the best in the stadium business to enable discussions on best practices and to guarantee high level networking. A full spectrum is covered, from design to construction to technology and stadium management." John Beattie, President ESSMA
Programme
The Summit will kick-off with an Aviva Stadium Tour, followed by keynote presentations on stadium lifecycle, match day operations and the fan experience journey. Among the speakers, we will welcome representatives from the host venue Aviva Stadium; LaLiga; Swedish League, EPFL; ECA; Disney and Diageo.
On day two, in-depth seminars will focus on ESSMA's six areas of expertise: Safety & Security, Fan Experience & Hospitality, Pitch Management, Construction & Development, Operations & Ticketing and Sustainability & SMART. To register and to view the conference programme, visit the official event website at www.essmasummit.eu.
The ESSMA Summit is a fantastic event to broaden your network in the stadium industry and to link-up with European colleagues in a unique setting.
"This conference will gather top executives from the stadium industry to present new trends, share ideas and build relationships aimed at shaping the future of sports facilities. We are delighted to partner up with ESSMA in hosting this event which should be a must for anyone interested in the venue business." Georg Pangl, EPFL General Secretary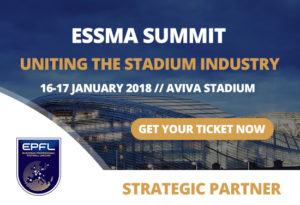 Book your ticket now
Go to https://essmasummit.eu/ticket-options and book your ticket for the ESSMA Summit now. This event is only for ESSMA Stadium, Club, League and Federation Members, ESSMA Stadium and Corporate Partners and ESSMA Strategic Partners: ECA & EPFL.
About ESSMA
ESSMA is built around three pillars: events, business intelligence, and strategic support. The Association offers an inspirational range of events for members to connect, learn and evolve with other like-minded professionals. Carefully designed workshops and tours along with the Association's flagship Annual Summit stimulate knowledge-sharing while adding value.
ESSMA carefully collects a wide range of data from its vast stadium network. It provides members with up-to-date, easy to understand data, analysing actual stadium development projects. ESSMA conducts valuable case studies to share best-practice guidelines and insights from its experienced membership-base. Thanks to its Stadium In Construction database, it can also offer an extensive overview of the industry, along with in-depth analysis of specific projects.
ESSMA aims to offer the right strategic support for every member. Whether it's providing professional film solutions for events or helping with a bespoke communication strategy, ESSMA is there to help.
Back to All News